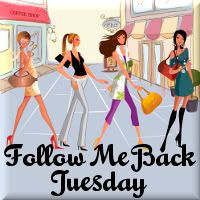 Here's how it works:
-Follow all five hosts,
1-5 on the link list
, (and
leave a comment
so they can
follow back
)
-Post about FMBT and add the link in your post
-Follow as many blogs on the
link list
as you would like (again, leave a comment so they can follow you back)
-When you receive a comment from a new follower, return the favor and follow them back
(Check back on the hosts' blogs on Tuesdays at 12:00am EST to link up.)
I really don't know if I've done this right, but I'm trying! lol.
Hey friends! So, it's almost 315am. My sugar levels is feeling a little low! And, this little baby inside is making mama lump sided and very uncomfortable. I'm watching him do his nudging in all different places and maaaan let me tell u - its making my eyes burst outta it's sockets. LOL.
Man. Anyways, I'm needing to get to bed and quick before I start clicking on more blogs to visit! haha. I promise, I can sit here for HOURS probably clicking away. But, I was chatting with an old friend and I've got a ton of things on my mind that I needed to let loose so - he was the BEST candidate to understand, I guess. Because, my husband is asleep. Shoot, the entire world must be asleep right now! I've always been an insomniac so this isn't anything new, TRUST ME.
But for reals though, I need to get to bed. Good nite friends. Happy following. I'll go follow people later on in the day. Toodles.
Spotlight Blog:
Spearmint Baby
.