Here's a quick
movie review
. I'm going to plan to watch a lot of movies within 2011. I tried to do it last year but I didn't keep TRACK of all the movies. But I've started to watch a lot of movies since the beginning of the year. I LOVE movies. So you will see reviews here a lot. hehe. I like random movies so please bare with me. But anyways, my first review is
Beauty & The Briefcase
. It was pretty okay. I had to sit there to actually get my attention. But, I'm a
Hilary Duff
fan. I have always been since she was "
Lizzie McGuire
". Anyways, this movie <SPOILER> is about a freelance writer finding her nitch as she enters the world of COSMO (magazine). She gets hired in the corporate world and does research on men in suits by dating them and discovering love and checking off all the things she's got on her checklist. Us ladies we all know we have lists too. We've created them since we were kids. Your ideal mate. But, of course, you need to check out your variety to FIND your right mate. And, so with or without that list, Hilary's character still found her mate. I'll rate this a 4½*.
Here's another review. Now, from when I use to watch
Raven Symone
in The Cosby's and on Disney Channel - I was her big fan because she was funny and cute. But in this movie she's more of an
adult
now. She's still funny but I couldn't stand to watch this movie because I just couldn't get interested in it. I even sat there and got even bored and more bored as it went on. When you're sitting the finding MORE things to do or even just having your mind trail off to something else - it's over. lol. So, I rate this a 2. Just not interested.
Okay. So, tonight is bbq & karaoke at our cousins house. Gosh, I really need to get out of this house. I'm overwhelmed with the chaos of day to day life with my toddler and my newborn son. I'm excited to go because dammit, I DON'T HAVE TO WORRY ABOUT DINNER for once. I've been worrying about dinner since I started my meal plan and boy it's hard work. But, I'm going to try more things like having my weeks on a budget like for grocery shopping and what not. I'm hating the fact that I'm spending more than I should. Especially with TWO children. I have a daughter who is still in the process of potty training. She's thankfully approaching week #2. Longest 13 days of my life. LOL. Not literally. But she did pretty well. She's got it almost down but I shouldn't speak so fast. She has working out in public with regular panties on also bed time. She hasn't wet the training pants for bed so that's good. I really want to organize more. Work out more (gosh I've been lazy. Did Zumba for 10 minutes the other day and 20 minutes yesterday). So we'll see how that goes. I just bought my scale. So i'm going to weigh in, mark it, and work on it. I haven't done the DVD yet (jullian michaels' banish fat boost metabolism). My family will be in town coming this weekend and I really want to work out maybe me and my uncle will do a hike. Never hiked since last year :(
Anyways, I think that's about it. I shall get going. It's almost time to get these kids ready for the BBQ. My husband WILL be drinking tonight which sucks because that's my bartenders place we're going to. But, since i'm breastfeeding I'm sacrificing. I love my kids before alcohol. I found out my gpa got a DUI. He's been an alcoholic since he was 14yrs old and now he's in his mid 70's and with all his verbal abuse growing up - I never want to be an alcoholic or marry one. Thankfully Jon drinks only on occasions. Not at home.
Okay going now. Toodles for now. Happy saturday! Wait..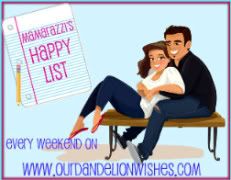 1. Wii Instant Movies on TV Netflix.

2. BBQ, Karaoke, Food and Friends.

3. My son making his little noises. Heartwarming.

4. Pandora. It keeps my son in a good mood. He loves slack key music.

5. A good book in tow.

6. A giddy husband.

7. BLOGGING friends.

8. Weekends.

9. Following blogs that help you with things like organization, recipes, and controlling my sanity because I realize that my kids aren't the only ones driving me nuts.
10. Memories.